Visit us at both store locations, or on vendor row outside turn one. Homestretch Sportswear is an authorized retailer for Eldora Apparel.
All Eldora Items Are A Registered Trademark of Eldora Speedway.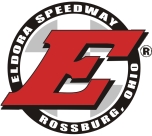 Interested in receiving the annual Eldora Speedway apparel catalog? Simply complete the form below and your catalog will be e-mailed to you shortly.
[powr-form-builder id=867ffb5b_1527278644]